The "Disklok" Steering Wheel Lock is the only full-cover, sold secured gold rated steering wheel lock on the market.
The Disklok steering wheel lock caters for all cars, motor homes and light commercial vehicles with 3 different size options.
Each Disklok has built in adjustment of 1 inch which allows you to find the perfect size for your steering wheel. When fitted correctly, the Disklok should be loose enough to slide around on your wheel but not loose enough to lift off.
The way in which to determine the correct size for your vehicle, you need to measure the diameter of your steering wheel as shown below.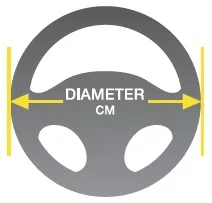 It is important to select the correct size for your vehicle in order for the Disklok to offer its full protection. Vehicle manufacturers often produce different sized steering wheels across their range and can periodically change them from year to year therefore we advise you to measure your wheel before purchase. The correct measurement should be taken across the centre line of the wheel from outside edge to outside edge.
A Small Disklok will fit steering wheels between 35-38.9cm
A Medium Disklok will fit steering wheels between 39-41.5cm
A Large Desklok will fit steering wheels between 41.5-44cm
NOTE: The Land Rover Discovery Sport 2016 requires a medium Disklok
Fiat500XL – A Disklok does not fit this model
NOTE – WHEN FITTED, THE DISKLOK MAY LEAVE SMALL MARKS ON SOFT STEERING WHEELS. THESE SHOULD RETURN TO NORMAL WHEN THE DISKLOK IS REMOVED – WE RECOMMEND PURCHASING THE DISKLOK STEERING WHEEL COVER TO REDUCE THE CHANCE OF MARKING SOFT LEATHER WHEELS.